Barricades being placed across a road in Chennai. (Representational/PTI)
Chennai, Hyderabad Coronavirus News Live Updates: Tamil Nadu recorded 2869 positive cases of COVID-19 on Sunday, bringing the state tally to 7,09,005. Among these, Chennai reported 764 positive cases, bringing the city's total to 1,95,672.
Tamil Nadu recorded 31 deaths on Sunday, putting the state toll at 10,924. Thirty of them had succumbed due to comorbidities.
As of Sunday, the number of active COVID-19 cases in Tamil Nadu is 30,606. Till date, 4,27,960 males, 2,81,013 females and 32 transgenders have tested positive for the virus in the state.
According to a bulletin released by the Health and Family Welfare Department of Tamil Nadu, 95,17,507 samples from the state have been sent for testing till date, with 80,690 samples having been sent yesterday.
The state discharged 4019 patients following treatment today, putting the total number of recoveries at 6,67,475.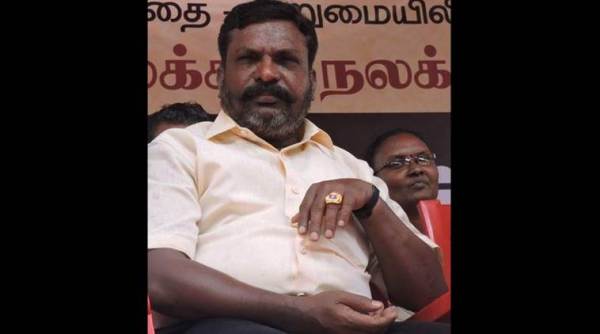 VCK chief Thol Thirumavalavan.
A video of a Dalit politician criticising a Hindu text's alleged portrayal of women has kicked up a major row in Tamil Nadu with the BJP demanding an apology from him for "denigrating women".
Thol Thirumavalavan, the chief of DMK ally Viduthalai Chiruthaigal Katchi (VCK), was booked by the Chennai Police on Friday after a complaint by the BJP. He faces charges under IPC sections relating to outraging of religious feelings, vilification of religion, causing alarm to the public and others.
READ | Chief of DMK ally criticises Manusmriti's 'portrayal of women', booked
Kushboo Sundar, the actor-turned-politician who recently joined BJP from Congress, said Thirumavalavan had denigrated women from a particular faith with his statement and sought an apology.
Kadiyala Kaleshwar of Balapur's Lenin Nagar in Hyderabad is hoping for some good news. In last week's sudden and unprecedented rains that flooded several low-lying areas of Hyderabad, the 32-year-old haplessly watched his car being swept away from outside his home by the strong currents of gushing water.
READ | Hyderabad: Taxis damaged in floods, owners hope govt will rescue
Kaleshwar, who used to be a driver for IT companies in the city, had been reeling under the coronavirus lockdown, lack of earning, and now the flash floods, according to him, just dealt him the last blow. Along with the house, the water snatched away his livelihood, too. In the absence of insurance for vehicles damaged in natural disasters, he is among several cab drivers in need for financial assistance from the government to jumpstart his life.
Chennai Hyderabad Coronavirus October 23, 24 Highlights
Source: https://indianexpress.com/article/cities/chennai/tamil-nadu-andhra-pradesh-telangana-coronavirus-chennai-hyderabad-edappadi-chandrashekar-rao-ysr-rains-cases-deaths-floods-live-6883556/