As of Monday, the number of active COVID-19 cases in Tamil Nadu is 19,504. (AP Photo/Mahesh Kumar A.)
Chennai, Hyderabad Coronavirus News Live Updates: Tamil Nadu recorded 2481 positive cases of COVID-19 on Monday, bringing the state tally to 7,29,507. Among these, Chennai reported 671 positive cases, bringing the city's total to 2,01,195.
Tamil Nadu recorded 31 deaths on Monday, putting the state toll at 11,183. Twenty eight of them had succumbed due to comorbidities. The state discharged 3940 patients following treatment, putting the total number of recoveries at 6,98,820.
As of Monday, the number of active COVID-19 cases in Tamil Nadu is 19,504. Till date, 4,40,252 males, 2,89,223 females and 32 transgenders have tested positive for the virus in the state.
According to a bulletin released by the Health and Family Welfare Department of Tamil Nadu, 1,00,99,519 samples from the state have been sent for testing till date, with 70,297 samples having been sent yesterday.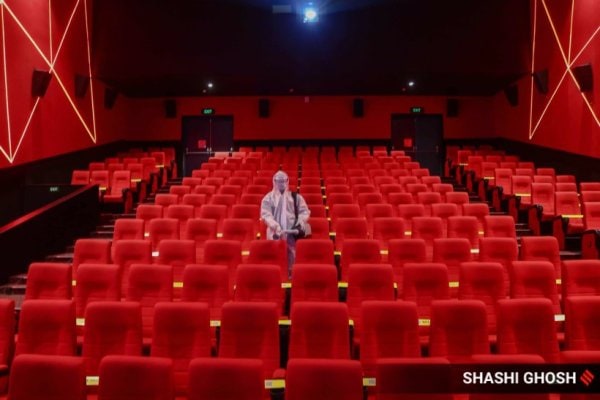 Theatres can be reopened with 50% capacity from November 10. (Express Photo: Shashi Ghosh/Representational)
The Tamil Nadu government Saturday announced more relaxations for the state, even as some of the lockdown restrictions remain in place. According to the latest government release, Classes 9, 10, 11 and 12 in schools, and classes in colleges, research institutions and other educational institutions, may resume from November 16. All hostels, including schools and colleges, are allowed to function from November 16.
READ | Tamil Nadu: Classes 9-12 can come to school, cinema halls, gyms reopen
Suburban train services also can be resumed, as per the regulations insisted by the Centre.While movie theatres are allowed to reopen on November 10 upto 50% capacity, shooting, including for small screens, is also allowed, with a crew strength of 150 members.
Every evening, 14-year-old Tasnia Tasneem waits for her father to finish his day and return home early. As he returns and gets busy with family chores, Tasneem wastes no time to take away his Samsung smartphone. The device is her portal into another world, a world of mobile phone games. But the teenager is not playing them, but practicing how to create new ones and exploring what is beyond.
Also Read | Tamil Nadu minister Doraikkannu succumbs to Covid-19
She was among the batch of 26 students and 13 teachers from 13 government schools in Makthala who recently finished a two-week online course on coding organised by the Telangana Information Technology Association (TITA). Following an online assessment, these students are certified as Telangana Early Coders (TEC) by the University of Texas in Dallas (UTD).
READ | In small town Telangana, an attempt to embed coding skills in students
The training programme selected one student each from classes 8 and 9 in the 13 schools along with a teacher from the school. Students learnt Scratch and Python programming languages. Apart from designing games like Apple and Bowl, Cat and Mouse, etc they learnt to develop a calculator and design different quizzes.
Chennai Hyderabad Coronavirus October 30, 31 Highlights
Source: https://indianexpress.com/article/cities/chennai/tamil-nadu-andhra-pradesh-telangana-coronavirus-chennai-hyderabad-edappadi-chandrashekar-rao-ysr-northeast-monsoon-cases-deaths-live-6913269/