As of Thursday, the number of active COVID-19 cases in Tamil Nadu is 18,395. Express Photo: Praveen Khanna
Chennai, Hyderabad Coronavirus News Live Updates: Tamil Nadu recorded 2112 positive cases of COVID-19 on Thursday, bringing the state tally to 7,52,521. Among these, Chennai reported 565 positive cases, bringing the city's total to 2,07,173.
Also Read | Tamil Nadu govt postpones reopening of schools
Tamil Nadu recorded 25 deaths on Thursday, putting the state toll at 11,440. Twenty two of them had succumbed due to comorbidities. The state discharged 2347 patients following treatment, putting the total number of recoveries at 7,22,686.
As of Thursday, the number of active COVID-19 cases in Tamil Nadu is 18,395. Till date, 4,54,454 males, 2,98,034 females and 33 transgenders have tested positive for the virus in the state.
According to a bulletin released by the Health and Family Welfare Department of Tamil Nadu, 1,08,63,921 samples from the state have been sent for testing till date, with 77,356 samples having been sent yesterday.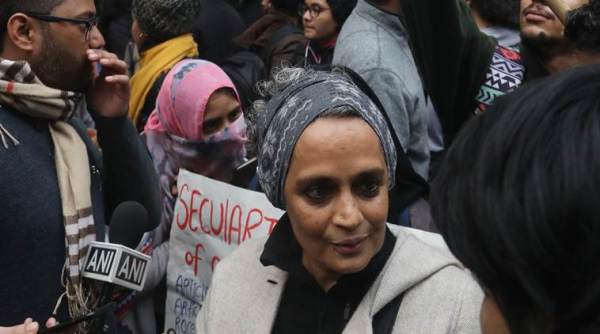 Arundati Roy. Express Photo by Abhinav Saha
The AIADMK-led Tamil Nadu government on Thursday extended the restrictions on social, political, cultural and academic events even after November 16, until further orders. Earlier, a government order on October 30 stated that public events with maximum participation of 100 people will be allowed November 16 onwards.
The move comes at a time when the BJP has been pushing hard to get police permission for the month-long Vel Yatra. The yatra, slated to cover six abodes of Lord Muruga, was scheduled to begin November 6 from Tiruttani temple in the north of Tamil Nadu and culminate at Tiruchendur temple in the south.
READ | Amid BJP push for Vel Yatra, Tamil Nadu extends curbs
Referring to a second wave of Covid-19 outbreak abroad, a government release on Thursday said the administration has to intensify preventive measures.
Also Read | LSR student's death prompts college protest
The Manonmaniam Sundaranar University in Tirunelveli on Wednesday decided to withdraw a book authored by Arundhati Roy from their syllabus following a complaint from the Akhil Bharatiya Vidyarthi Parishad (ABVP).
READ | Tamil Nadu varsity removes Arundhati Roy's book from syllabus after ABVP's objection
'Walking with the Comrades,' a decade-old work of the Booker Prize winner, captures the face-off in the forests of central India between the Indian state and the armed revolutionary guerrilla force, Maoists. The book was a part of the syllabus in the university since 2017 under the Commonwealth Literature category for BA English language and literature students in the third semester.
Chennai Hyderabad November 11, 12 Highlights
Source: https://indianexpress.com/article/cities/chennai/tamil-nadu-andhra-pradesh-telangana-coronavirus-chennai-hyderabad-edappadi-chandrashekar-rao-ysr-northeast-monsoon-schools-reopening-vetri-vel-yatra-live-7050057/