As of Friday, the number of active COVID-19 cases in Tamil Nadu is 10,938. Express Photo: Gurmeet Singh
Chennai, Hyderabad Coronavirus News Live Updates: Tamil Nadu recorded 1391 positive cases of COVID-19 on Friday, bringing the state tally to 7,87,554. Among these, Chennai reported 356 positive cases, bringing the city's total to 2,16,867. The state recorded 15 deaths on Friday, putting the state toll at 11,762. Fourteen of them had succumbed due to comorbidities. The state discharged 1426 patients following treatment, putting the total number of recoveries at 7,64,854.
As of Friday, the number of active COVID-19 cases in Tamil Nadu is 10,938. Till date, 4,75,883 males, 3,11,637 females and 34 transgenders have tested positive for the virus in the state.
According to a bulletin released by the Health and Family Welfare Department of Tamil Nadu, 1,23,34,447 samples from the state have been sent for testing till date, with 70,378 samples having been sent yesterday. There are 227 COVID-19 testing facilities in the state, out of which 67 are government and 160 are private facilities.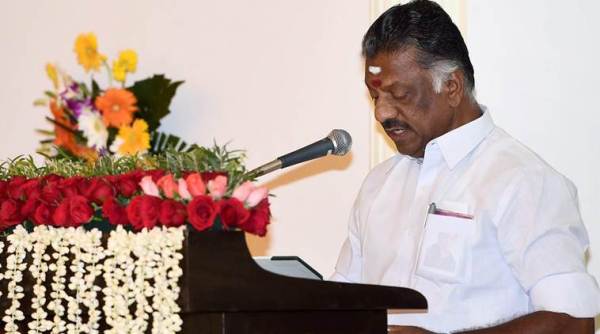 Deputy Chief Minister of Tamil Nadu O Panneerselvam. (PTI)
AIADMK coordinator and Tamil Nadu Deputy Chief Minister O Panneerselvam has hinted at a possible alliance with actor Rajinikanth who confirmed Thursday that his party will contest the upcoming elections in Tamil Nadu.
READ | Open to tie-up with Rajinikanth's party: Tamil Nadu Deputy CM Panneerselvam
Addressing the reporters in Theni, Panneerselvam said: "We welcome great film actor Rajinikanth's decision to enter politics. In politics, anything can happen. If there is an opportunity, an alliance will be formed (with Rajinikanth)," he said.
Also Read | Explained: Rajinikanth's political entry, and the road ahead
Marking a stunning performance in the Greater Hyderabad Municipal Corporation (GHMC) elections, the BJP on Friday emerged as the second-largest party, dislodging the ruling Telangana Rashtra Samithi (TRS) from half the seats it had held. While the BJP tally went up from four in 2016 to 48, the TRS numbers went down from 99 to 55.
READ | Massive BJP surge in Hyderabad civic poll, says Telangana next
BJP leaders said the party's performance "made it ambiguously clear that it is emerging as the alternative force" in Telangana, which they said was their agenda for this election. The party sees Telangana as one of the states where it has the most chance after Karnataka. BJP president J P Nadda and senior leader and Home Minister Amit Shah said the results also showed "unequivocal support towards PM Modi's development and governance model".
Also Read | International Disability Day: This Chennai man defied odds to earn a living
For assistance on COVID-19-related queries and mental health support in Chennai, citizens can contact the Greater Chennai Corporation's (GCC) COVID-19 helpline 044 46122300 | Citizens can find the nearest GCC-facilitated COVID-19 fever clinic here | For lodging rain-related complaints and assistance during the monsoon, citizens can contact the GCC's monsoon helplines 044 25384530 or 044 25384540 or the control room 1913 (available 24×7)
Chennai Hyderabad December 2, 3 Highlights
Source: https://indianexpress.com/article/cities/chennai/tamil-nadu-andhra-pradesh-telangana-coronavirus-chennai-hyderabad-edappadi-chandrashekar-rao-ysr-northeast-monsoon-ghmc-polls-live-7091075/