A health worker collects a swab from a resident in Chennai. Express Photo: Srinivas K
Chennai, Hyderabad Coronavirus News Live Updates: Tamil Nadu recorded 1320 positive cases of COVID-19 on Sunday, bringing the state tally to 7,90,240. Among these, Chennai reported 346 positive cases, bringing the city's total to 2,17,542. The state recorded 16 deaths on Sunday, putting the state toll at 11,793. All 16 of them had succumbed due to comorbidities. The state discharged 1398 patients following treatment, putting the total number of recoveries at 7,67,659.
As of Sunday, the number of active COVID-19 cases in Tamil Nadu is 10,788. Till date, 4,77,473 males, 3,12,733 females and 34 transgenders have tested positive for the virus in the state.
According to a bulletin released by the Health and Family Welfare Department of Tamil Nadu, 1,24,76,093 samples from the state have been sent for testing till date, with 70,765 samples having been sent yesterday. There are 228 COVID-19 testing facilities in the state, out of which 67 are government and 161 are private facilities.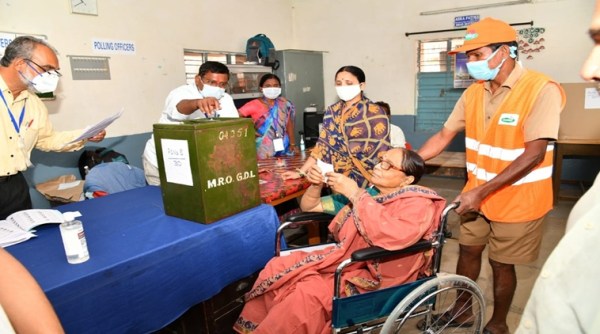 A woman casts her vote in Hyderabad during the GHMC polls. The Congress won only two of the 150 GHMC seats. (Image by GHMC)
The poor performance of the Congress in the Greater Hyderabad Municipal Corporation (GHMC) elections, coming close on the heels of its defeat in the Dubbaka by-election where it came third, has triggered a war of words and a leadership tussle in Telangana Congress. Taking responsibility for the disastrous show amid a BJP surge, state Congress president N Uttam Kumar Reddy resigned on December 4 – shortly after the results were announced.
READ | GHMC Polls: After poor show, Telangana Congress grapples with state leadership issue
Even as restrictions have eased, centres that provide therapy and vocational training to children with disabilities in Chennai, continue to remain closed as the Tamil Nadu government is yet to give its nod to reopening educational institutions in the state.
READ | Covid halts therapy sessions, children with disabilities struggle to cope up
Also Read | Kamal Haasan backs Anna University V-C: 'Can't let them create another Nambi Narayanan'
For assistance on COVID-19-related queries and mental health support in Chennai, citizens can contact the Greater Chennai Corporation's (GCC) COVID-19 helpline 044 46122300 | Citizens can find the nearest GCC-facilitated COVID-19 fever clinic here | For lodging rain-related complaints and assistance during the monsoon, citizens can contact the GCC's monsoon helplines 044 25384530 or 044 25384540 or the control room 1913 (available 24×7)
Chennai Hyderabad December 4, 5 Highlights
Source: https://indianexpress.com/article/cities/chennai/tamil-nadu-andhra-pradesh-telangana-coronavirus-chennai-hyderabad-edappadi-chandrashekar-rao-ysr-northeast-monsoon-chennai-corporation-live-7094701/