As of Monday, the number of active COVID-19 cases in Tamil Nadu is 10,039. Express Photo: Prashant Nadkar
Chennai, Hyderabad Coronavirus News Live Updates: Tamil Nadu recorded 1141 positive cases of COVID-19 on Monday, bringing the state tally to 8,00,029. Among these, Chennai reported 343 positive cases, bringing the city's total to 2,20,211. The state recorded 14 deaths on Monday, putting the state toll at 11,909. All 14 of them had succumbed due to comorbidities. The state discharged 1203 patients following treatment, putting the total number of recoveries at 7,78,081.
As of Monday, the number of active COVID-19 cases in Tamil Nadu is 10,039. Till date, 4,83,390 males, 3,16,605 females and 34 transgenders have tested positive for the virus in the state.
According to a bulletin released by the Health and Family Welfare Department of Tamil Nadu, 1,30,20,594 samples from the state have been sent for testing till date, with 63,989 samples having been sent yesterday. There are 231 COVID-19 testing facilities in the state, out of which 67 are government and 164 are private facilities.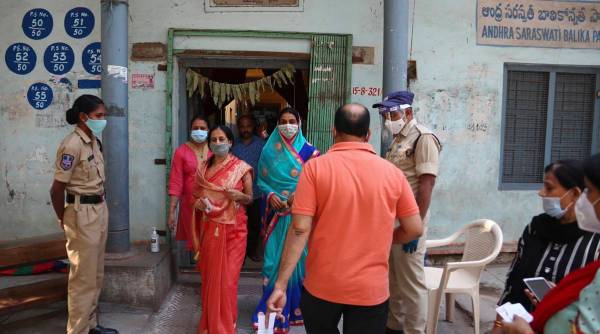 Voters walk out after casting their votes at a polling booth, during the Greater Hyderabad Municipal Corporation (GHMC) elections in Hyderabad. (AP Photo/Mahesh Kumar A.)
The absence of a clear mandate from the voters to any of the political parties in the recently held elections to the Greater Hyderabad Municipal Corporation, which evoked attention from across the country as a result of a high-octane campaign, means that even a week after the results there is no clear indication on who will become the Mayor.
READ | Week after GHMC results, Hyderabad nowhere near getting a new Mayor
Also Read | Kamal Haasan pitches for establishing Madurai as second capital of Tamil Nadu
With Tamil Nadu gearing up for elections next year, Chief Minister Edappadi K Palaniswami on Monday launched a project to set up 2,000 mini-clinics across the state to provide essential healthcare services to the downtrodden. People will be treated for minor ailments like cold, fever, headache, etc at these clinics, which are being set up to reduce overcrowding in government hospitals that are already packed with Covid-19 cases.
READ | Tamil Nadu launches mini-clinics to provide essential healthcare services for poor
For assistance on COVID-19-related queries and mental health support in Chennai, citizens can contact the Greater Chennai Corporation's (GCC) COVID-19 helpline 044 46122300 | Citizens can find the nearest GCC-facilitated COVID-19 fever clinic here | For lodging rain-related complaints and assistance during the monsoon, citizens can contact the GCC's monsoon helplines 044 25384530 or 044 25384540 or the control room 1913 (available 24×7)
Chennai Hyderabad Coronavirus December 11, 12 Highlights
Source: https://indianexpress.com/article/cities/chennai/tamil-nadu-andhra-pradesh-telangana-coronavirus-chennai-hyderabad-edappadi-chandrashekar-rao-ysr-northeast-monsoon-live-7103980/