Every hour, nine women in Tamil Nadu fall victim to crime. Nine years ago, after the horrific gangrape and murder of Nirbhaya in Delhi in 2012, the government at the Centre envisaged a scheme in her name allocating hundreds of crores for projects to ensure women's safety.
But poor coordination among government agencies resulted in only 10% of the sanctioned Rs 461 crore being utilized till April 2021 in Tamil Nadu.
Several projects, which sounded promising on paper, remain non-starters or are incomplete. These included surveillance systems in crime-prone locations, panic alert systems in public transport, e-toilets, streetlights in dark spots, helplines and cyber cells. Here is an audit of how the Nirbhaya scheme has fared:
SURVEILLANCE
The Greater Chennai Police identified 617 locations where women were vulnerable. They included bus or train routes, educational institutions, crowded markets and slums. The Nirbhaya scheme aimed at strengthening surveillance at these locations. But it has not happened. "Even during day time, we feel unsafe in public places. If cameras are installed at bus stops, men will think twice before passing lewd comments or misbehaving with us," says Saranya (name changed), who studies at a college in Nungambakkam."We also don't see policewomen in plainclothes keeping an eye out for troublemakers," she said.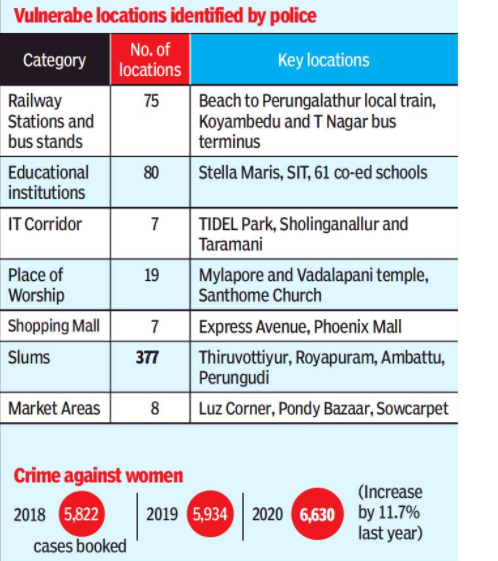 PANIC ALERT SYSTEMS
Four years have passed since a woman doctor narrowly escaped a sexual assault by an Ola cab driver at Neelangarai, but panic buttons have yet to be installed in cabs. There are 34 lakh cabs in the city and 3,300 MTC buses. Only a handful of them are equipped with panic buttons. But even these will not help as there is no government command centre to process these SoS calls.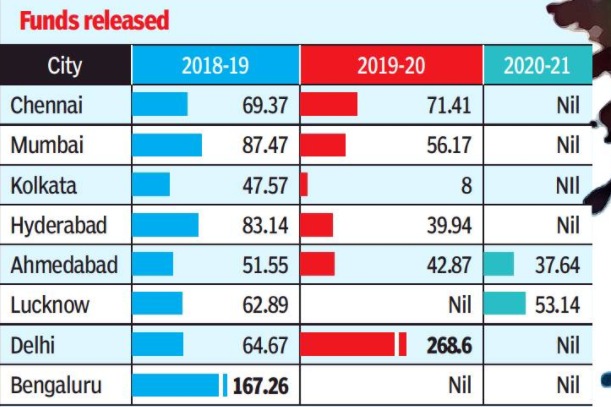 Some of the cab services offer a button within the cab booking application. However, this connects the passenger only to the company's safety team and not the police. So, the police will not get the alerts to reach the crime scene on time, said road safety expert Kamal Soi.
CIVIC UTILITIES
According to official data, there are 692 'dark spots' in the city where crimes against women, which include chain snatchings, were on the rise. The Greater Chennai Corporation is yet to set up new LED lights in these spots though planned in 2018. There are such spots even on the GST road opposite the airport. Also, the civic body planned to construct 500 mobile and e-toilets. But women continue to depend on the washrooms of local restaurants. The corporation will soon repair 151 defunct e-toilets, said a GCC official.
CYBER CELLS
Cyber stalking, misuse of information from matrimonial sites, and trolling on social media are on the rise. The government came up with a slew of proposals such as a state-of-the-art cyber cell, and a victim compensation fund. But cases remain unattended. The state forensic lab, which currently handles such cases, is also in need of more funds to procure high-end software.
HELPLINE AND COUNSELLING
The government came up with a grand proposal to create 1,000 training modules on gender sensitization and women safety for government officials, police and students. But they never took off at the grassroots level except for efforts by some institutions. The government had not even constituted a task force. Many are not even aware about the multiple helpline numbers.
(Inputs from Sindhu Kannan, Ram Sundaram, A Selvaraj & Komal Gautham)
Source: https://timesofindia.indiatimes.com/city/chennai/how-tamil-nadus-nirbhaya-scheme-turned-a-dud/articleshow/88217992.cms