Parts of Chennai received moderate showers in the morning. Express Photo: Srinivas K
Chennai, Hyderabad Coronavirus News Live Updates: Parts of Chennai received moderate to heavy showers early Wednesday morning, after days of a dry spell in the city following the first showers of the northeast monsoon last week.
Meanwhile, Tamil Nadu recorded 2435 positive cases of COVID-19 on Tuesday, bringing the state tally to 7,31,942. Among these, Chennai reported 669 positive cases, bringing the city's total to 2,01,848.
Tamil Nadu recorded 31 deaths on Tuesday, putting the state toll at 11,214. Twenty nine of them had succumbed due to comorbidities. The state discharged 2707 patients following treatment, putting the total number of recoveries at 7,01,527.
As of Tuesday, the number of active COVID-19 cases in Tamil Nadu is 19,201. Till date, 4,41,809 males, 2,90,100 females and 33 transgenders have tested positive for the virus in the state. According to a bulletin released by the Health and Family Welfare Department of Tamil Nadu, 1,01,69,917 samples from the state have been sent for testing till date, with 69,496 samples having been sent yesterday.
Telangana reported 1,637 new COVID-19 cases on Tuesday, taking the tally to 2,44,143 while six more deaths pushed the toll to 1,357, the state government said on Wednesday. The number of active cases was 18,100, while as many as 15,335 people were in home or institutional quarantine, a bulletin said.
Of the fresh cases, Greater Hyderabad Municipal Corporation (GHMC) accounted for the most number of cases with 292, followed by Rangareddy (136) and Medchal Malkajgiri (129) districts.
A total of 45,526 samples were tested during the period, taking the cumulative number of specimens examined in the state to 44,39,856. The samples tested per million population was1,19,286, the bulletin said. The case fatality rate in the state was 0.55 per cent while the recovery rate was 92.03 per cent.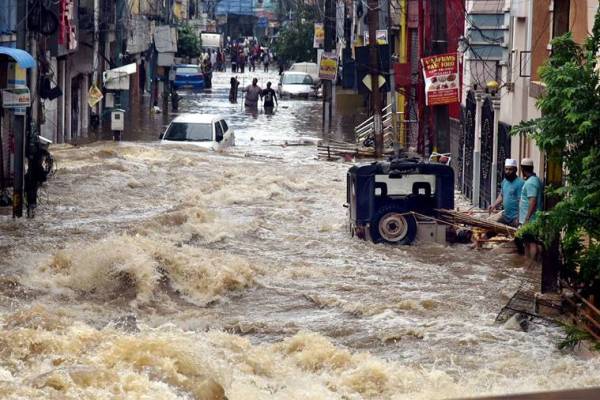 Floodwater gushes through a street following heavy rains, at Falaknuma, in Hyderabad. (PTI Photo)
In the aftermath of heavy rains that flooded several parts of the city, exposing the inadequate capacity of the city's stormwater drains, the state government has now set up an exclusive project wing within the Greater Hyderabad Municipal Corporation (GHMC) to mitigate the adversities due to heavy rains in the future.
READ | Hyderabad floods: Govt sets up special wing to study city drainage system
On Monday, an order was issued regarding the establishment of the Strategic Nala Development Programme (SNDP) and appointing Dr. C Vasantha, retired chief engineer of Roads and Buildings department, to head the new wing as the Officer on Special Duty (OSD) for a year.
Also Read | Telangana board awards grace pass marks to absentee intermediate students
Legendary violinist T N Krishnan died in Chennai on Monday evening. He was 92.
Although Krishnan was in good health, he had a "sudden uneasiness" in the evening and passed away, said Ramanathan Iyer, a Chennai-based music lover and organiser of musical events. Iyer, who was close to Krishnan's family, said they had celebrated his birthday last month. "He was healthy. Even in the recent days, he was watching videos of rasikas and his disciples wishing him a happy birthday," Iyer said.
READ | Chennai: Violin maestro TN Krishnan passes away at 92
Born in 1928 in Tripunithura in Kerala, Krishnan started as a child prodigy and went on to perform with legends from several generations. Ariyakudi Ramanuja Iyengar, Alathur Brothers, Chembai Vaidyanatha Bhagavatar, MD Ramanathan and Maharajapuram Viswanatha Iyer were among those whom Krishnan accompanied in performances.
Chennai Hyderabad Coronavirus November 2, 3 Highlights
Source: https://indianexpress.com/article/cities/chennai/tamil-nadu-andhra-pradesh-telangana-coronavirus-chennai-hyderabad-edappadi-chandrashekar-rao-ysr-northeast-monsoon-live-6937004/