A guard checks a woman's temperature at a temple in Chennai. Express Photo: Srinivas K
Chennai, Hyderabad Coronavirus Live Updates: The restrictions imposed due to Covid-19 in Tamil Nadu will remain in force till December 31, the state government announced Monday. Tamil Nadu Chief Minister Edappadi K Palaniswami said the decision was taken after consulting medical experts, district collectors and other officials.
The government has allowed classes for final year students of undergraduate programmes in colleges and universities to begin from December 7. For undergraduate and post-graduate students who are pursuing medicine, courses will resume from December 7. For students who have been provided admission for the 2020-21 academic year, the courses will begin on February 1, 2021.
For the first time since March, Marina beach in Chennai will open for the public on December 14. With prior permission, religious congregations, and social, political and cultural functions will be allowed inside an auditorium with 50 per cent capacity, or a maximum of 200 people. Swimming pools will be reopened across the state for sports training. Entry will remain restricted to the general public.
Tamil Nadu recorded 1459 positive cases of COVID-19 on Sunday, bringing the state tally to 7,80,505. Among these, Chennai reported 398 positive cases, bringing the city's total to 2,14,976. The state recorded nine deaths on Sunday, putting the state toll at 11,703. All nine of them had succumbed due to comorbidities. The state discharged 1471 patients following treatment, putting the total number of recoveries at 7,57,750.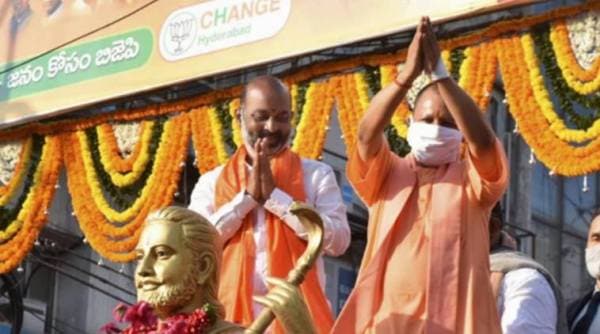 Uttar Pradesh Chief Minister Yogi Adityanath with BJP State president Bandi Sanjay waves at supporters during a roadshow, ahead of GHMC elections in Hyderabad, Saturday, Nov. 28, 2020. Credit: PTI Photo
Addressing a public meeting in Hyderabad on Saturday, Yogi Adityanath said, "If we win, we will turn Hyderabad into Bhagyanagar… Some people were asking me if Hyderabad can be renamed Bhagyanagar. I said, why not. I told them that we renamed Faizabad as Ayodhya and Allahabad as Prayagraj after BJP came to power in Uttar Pradesh. Then why can't Hyderabad be Bhagyanagar?"
READ | Shah to Yogi, BJP deploys its big guns for high-stakes municipal polls in Hyderabad
The Uttar Pradesh Chief Minister joins a long list of leaders deployed by the BJP to campaign for the December 1 elections to the Greater Hyderabad Municipal Corporation — from Union Home Minister Amit Shah, who is scheduled to visit the city on Sunday, to party president J P Nadda, Union minister Smriti Irani, and youth wing president Tejasvi Surya, who is known for his inflammatory speeches. Besides, the party has got Bhupender Yadav, party general secretary and its match-winner in Bihar, to camp in Hyderabad to oversee the election work.
Also Read | GHMC polls: BJP will turn Hyderabad into global IT hub, says Amit Shah
With their lives already in dire straits due to government neglect and lack of basic needs, sixty families of the Irula community, a semi-nomadic tribe spread across three villages in the Cuddalore district of Tamil Nadu, have been dealt a further blow due to the Cyclone Nivar, which has completely washed away their settlements.
READ | Cyclone Nivar deals further blow to Irula tribals already struggling for basic needs
For assistance on COVID-19-related queries and mental health support in Chennai, citizens can contact the Greater Chennai Corporation's (GCC) COVID-19 helpline 044 46122300 | Citizens can find the nearest GCC-facilitated COVID-19 fever clinic here | For lodging rain-related complaints and assistance during the monsoon, citizens can contact the GCC's monsoon helplines 044 25384530 or 044 25384540 or the control room 1913 (available 24×7)
Chennai Hyderabad Coronavirus November 27, 28 Highlights
Source: https://indianexpress.com/article/cities/chennai/tamil-nadu-andhra-pradesh-telangana-coronavirus-chennai-hyderabad-edappadi-chandrashekar-rao-ysr-northeast-monsoon-ghmc-polls-live-7073604/